Are your illnesses are a result of your indoor air quality?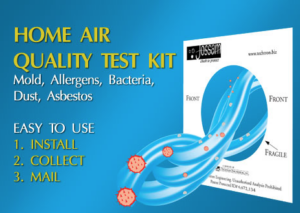 Why does my house have a musty smell?
Is there an easy and affordable way for me to test my indoor air?
The Jossam Air Quality Home Test Kit, is your answer.  Our low-cost, easy-to-use air quality test kit gives you the answers to your questions such as:
Is mold a problem in my home?
How can I test for mold in my home?
Isthere asbestos in my home?
What is in my indoor air that is making me sneeze?
Does my home's air contain allergens?
With our indoor air quality test kit, you'll be able to test your own indoor air easily and affordably.The Jossam Air Quality Test Kit can be used to test your home or office indoor air quality. Our air quality test kits can check for mold, dander, total dust, and carcinogenic fibers (fiberglass, asbestos).
Learn more about testing your air quality here by watching a short video about the Jossam Indoor Air Quality test kit here.